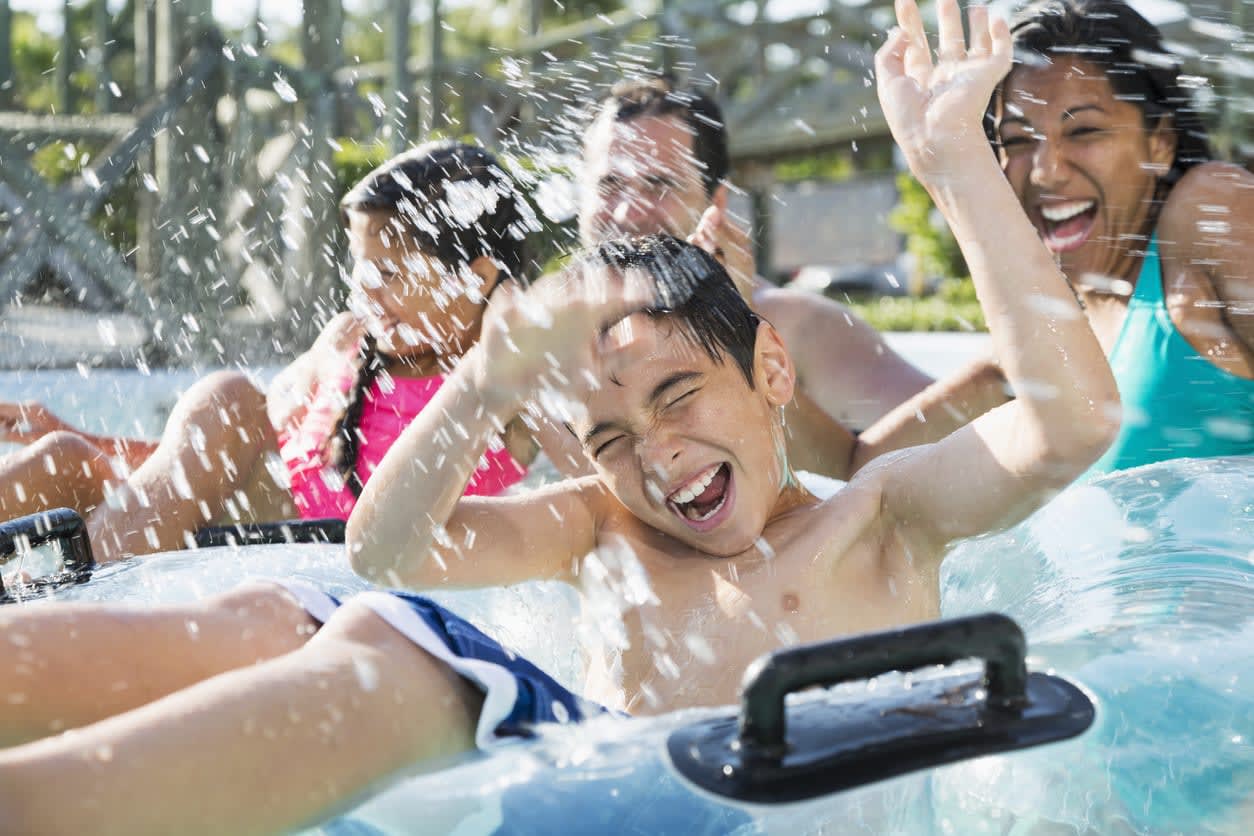 If you're looking for fun, family-friendly things to do in
Pleasanton, CA
, check out the city's many water-themed destinations. From state-of-the-art waterparks to Olympic-sized swimming pools, here are the top places to go for a splash in Pleasanton, CA:
The Wave
4201 Central Parkway, Dublin
Also called the Dublin Wave Aquatic Center, this31,000-square foot waterpark is located just 3 miles from Pleasanton CA. Found in Emerald Glen Park, The Wave's features include a waterslide tower with six twisting and thrilling slides, a splash zone with an interactive children's play area, and an 11-lane outdoor swimming pool. They utilize state-of-the-art water treatments and have Red Cross-certified lifeguards and slide attendants to make sure everyone has a fun and safe time.


The Wave's location in Emerald Glen Park also gives visitors access to other park amenities that include baseball and soccer fields, a lighted skateboard park, and a gorgeous rose garden.


Val Vista Community Park
7350 Johnson Drive
Val Vista Community Park offers Pleasanton residents a convenient place to have fun with the family. This popular park is sometimes called the Val Vista Waterpark because of its water play area and artificial rock creek. A huge recreational center, you can run around in wide-open spaces, have a relaxing time at the picnic grounds, or break a sweat at the jungle gyms. Other features of this park include scenic walking trails, a community garden, and an inline skate area.


Shadow Cliffs Regional Recreation Area
2500 Stanley Blvd.
Right at the border of Pleasanton is the Shadow Cliffs Regional Recreation Area. It is home to the 80-acre Shadow Cliffs Lake, which is a popular spot for swimming and boating. Anglers also frequent the area to catch trout, catfish, and bluegill. It's a popular spot for birdwatching, as well, particularly for house finch, American coot, and great-tailed grackle. Shadow Cliffs has a wide picnic ground and several walking trails, so you are sure to have a wonderful time at this outdoor destination.


San Ramon Olympic Pool & Aquatic Park
9900 Broadmoor Dr., San Ramon
Beat the heat at the San Ramon Olympic Pool &Aquatic Park. This park is just 9 miles from Pleasanton, making it a convenient recreational destination for residents. Here, you can go for laps in the Olympic-size swimming pool or play around in the splash pad. There are water slides, diving boards, and an inflatable obstacle course for kids of all ages to enjoy. There's also a picnic area with tables where you can sit back and relax with the family.


The Dolores Bengtson Aquatic Center is Pleasanton's premier aquatic facility. The park's water facilities include an Olympic-sized swimming pool, a kiddie pool with a waterslide, and a 25-meter L-shaped lap pool. They also offer swimming lessons and aqua aerobics classes for anyone looking to improve their skills in the water. If you want to relax, you can head to the picnic grounds or lounge around by the poolside.


Just around 10 miles from Pleasanton, this 62,500-square-foot aquatic center features an Olympic-size swimming pool and a kiddie pool, complete with a water slide and diving boards. With state-of-the-art facilities and attentive lifeguards, you are sure to have an enjoyable time. The center is also a great place to take your kids for swimming lessons. If you want to dry off a bit, you can take a break on a shaded area with picnic tables.


Aqua Adventure Water Park
40500 Paseo Padre Parkway, Fremont
A water park focused on family fun, Aqua Adventure Water Park in Fremont is one of the best water parks near Pleasanton. Here, you can go swimming in the 25-yard-long Oasis Pool, floating around the 200-yard Round About River, or sliding down the four-story Fortress of Fun. Kids will love Lil Squirts, a splash pad that has water fountains, showers, and a mini water slide. You can also take them here for swimming lessons or a Junior Lifeguard camp in the summer.


With picturesque views from your window, topnotch amenities at your doorstep, and perfect weather all year round, living in Pleasanton, CA is a dream. If you're thinking of moving here, our team of real estate professionals at McDowell Real Estate Group can help you find the perfect home. Call us at
(925) 209-0343 (Peter)
or
(925) 596-8731 (Mari)
, or leave us a note
here
.